The State of Alabama
, which entered the union in
1819
, is now composed of
67
counties.
ROBERTOREG'S ATLAS OF ALABAMA
covers each, beginning with the first in alphabetical order, Autauga, and ending with the last, Winston. This endeavor is definitely a labor of love because it will be necessary for me to describe
48
counties before I get to my favorite, Mobile,however, next week presents an interesting challenge because by Saturday, November 26, I plan to have completed my second installment which will describe Baldwin County.
I anticipate that this work will not be completed until March of 2007. As Spring after next blossoms forth along Portersville Bay south of Bayou La Batre, I look forward to being able to cruise out on the water of the Mississippi Sound at sundown and to have the satisfaction of knowing I've finished a job well done.
AUTAUGA COUNTY
http://www.archives.state.al.us/counties/autauga.html
http://alabamamaps.ua.edu/historicalmaps/counties/autauga.html
Autauga County, organized in 1818, is older than the State of Alabama itself. Autauga takes its name from the Alibamo Indian village, Atagi, meaning "border". During antebellum days, Autauga's county seat, Prattville, was home of the world's largest factory for the production of cotton gins. Unfortunately some of these original factory buildings constructed in the 1850s recently burned.
http://www.rkmcal1.com/ginfire
Most folks are introduced to the green hills of Autauga County while traveling U.S. Highway 82 or Interstate 65 on their way to and from Montgomery. It takes less than 30 minutes to drive
82
from the Northwest Autauga County line with Chilton County southeast toward Montgomery. Along this highway you will cross bridges which span Little Mulberry, Swift, White Water and Autauga Creeks. During the late spring and summer you'll notice many produce stands selling peaches, tomatos and other local products.
Two short sidetrips near Prattville will probably extend your visit to this
land of #4 car tags
[Most Alabama license plates have a numerical prefix which symbolizes the county where the automobile is registered]
by half an hour but both ventures will provide memories which will stick with you for the rest of your life.
THE GIANT BAMBOO FOREST AT WILDERNESS PARK ON UPPER KINGSTON ROAD

http://www.prattville.com/departments/leisureservices_parks.html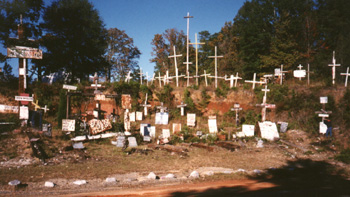 http://www.gethep.net/road/index.html
http://www.thecross-photo.com/W._C._Rice
http://www.interestingideas.com/roadside/artrice.htm
http://www.haxan.com/portfolio/freakylinks/WWWFRE~1.COM/FREAKO~1/MONDO_~1/CROSS_~1.HTM
W.C. Rice died in December of 2004 so I'm not sure the status of his Cross Garden just off the 82 bypass as you come into Prattville. I saw some of his crosses for sale on the Internet.
http://www.popsiephotos.com/rock1.htm
THE WICKED WILSON PICKETT & JIMI HENDRIX
On March 18, 1941, THE WICKED PICKETT was born in Prattville. He was brought up in Prattville until about 1955 when his family moved to Detroit so next time you hear "In The Midnight Hour" or "Mustang Sally", please remember that the roots of that music run deep in Autauga County.
Some exotic & not so exotic Autauga County place names you will encounter on the backroads of this county:
Alpha Springs, Booms Store, Fig Tree, Hoar, Madera, Mt. Sinai, Netezen, Peace, Ousley Store, Onoqua, Autaugaville, Posey's Crossroads, Pine Flat, Spur, Jones Switch, Washington Ferry